Summer has arrived and as COVID restrictions ease, it is time to pack our bags and go exploring. Let's go to Iceland!
As architects we too need to spread our wings. Not that I am an architect, just your lowly Content Manager. But, it is important for us all to step outside and travel. To experience new places and a different pace of life.
We need be inspired. To immerse ourselves in nature. Absorb different culture, and become reconnected to our surroundings. To learn, educate and expand our minds. We may even have a cheeky cocktail here and there. Relaxing in far flung bars in far flung places.
ICELAND
Our family decided to go to Iceland. AND WOW – my mind has been blown, It is absolutely stunning here. Mother Nature in her FULL GLORY. Majestic, powerful and magical.
I am presently sitting in a cute little cabin, shrouded in mist in the Selfoss area of Iceland (South Iceland). Serenaded by the piercing cries of the Loa (which is a bird btw :)), as I place finger to keys. He is a cute, chatty fellow, who likes to ride the buffeting winds that swirl around this little island. Being out in the North Atlantic and Arctic oceans, the temperature rarely gets above a cool 65F in summer.
Boasting bubbling volcanos, Puffins, hot springs, geothermic pools, black beaches, icebergs and Vikings. It truly is the land of "fire and ice". Oh! I must also add, that in summer the sun refuses to sleep. So, we pretty much have had 24hrs of daylight. I am currently in deep love relationship with the "black out blind"!
Icelandic Architecture
TURF HOUSES – yes homes made of grass.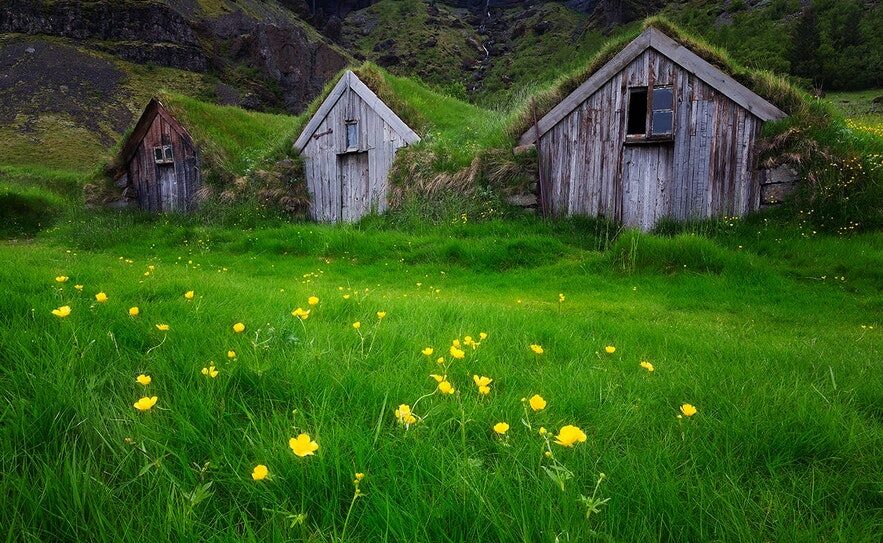 From the age of settlement, around 850. Norsemen sailed across the Atlantic ocean to settle on Iceland. With them they brought their home style. Turf Houses have dominated Icelandic architecture up until the turn of the 20thC. Thought to have originated from the long houses of Norway, Denmark and the Scottish Highlands.
However these rustic, timber framed abodes, adapted for the Icelandic elements, represent a delightful marrying of human resourcefulness with nature. Blending structural form with the flow of the landscape. Living in harmony with Iceland's magnificent and precarious environment.
Structure
The foundation of turf houses was one or more layers of rock, but had a wooden structural base. The walls were double-stacked and lined with compressed soil for isolation. Before an outer layer of turf, (cut into strings, diamonds or squares got pressed together). Which creating the grassy surface on top. Quoted Guide to Iceland
COSY!
Cool fact – before the arrival of coal, Icelanders built houses with the animals living underneath. As heat rises it would warm the upper level, where the family slept.
WHAT is ICELANDIC ARCHITECTURE?
Well to be honest there is no defining architecture for the country. With a multitude of settlers coming from Europe, each one brought a little slice of their own style, technique and culture. Thus, creating a smorgasbord of design. Commonly known as historicism. Most of Iceland's housing over the years has been created and imported from Norway or Denmark.
Another icy fact –
In the 1860s, a new material supplied the Icelandic people with an upgrade in their housing design. This marvel turned out to be corrugated iron—and one needs only take a stroll down any old street in Iceland to notice it still embellishes an abundance of buildings, in a parade of different colors. Quoted Guide to Iceland

Concrete arrives
in the 1930's along came Steinsteypuöldin. when translated means the "cement age". During this movement Iceland also saw Functionalism influencing housing design. This is when a building is designed to reflect its functional need, not to look pretty!
Guðjón Samúelsson – Iceland's Architect!
Synopsis
This small islands history is rich and vibrant and is home to the worlds most northly city, oldest parliament Althing (established – 930) and created from the bravery of Viking travelers.
With its expansive volcanic land, architecture here is a wealth of coastal red copper tin roofed towns, nestled against a vibrant back ground of towering basalt black cliffs, gushing waterfalls and green grassland. Modern homes, are structural, enabling light to flood in with plenty of glass, facing it's landscape. The homes here respect their environment, they work and blend with it, respecting, never forcing their presence. Did you know that almost 100% of Icelandic energy comes from renewable sources – that is pretty amazing.
There is so much we can learn from this small country of "Fire and Ice"
Thank you, we are now off to watch Humpback Whales in Reykjavik.
Love Kelly Joy – Content Producer – Hlevel