The co working space, a fairly modern concept. The haunt of freelancers, startups and small firms, providing an inexpensive alternative for accessible office space. Enabling them to create, share and thrive.
With its ability to create community and generate a feeling of being part of something far greater than the individual. It is a very attractive option for many individuals and small companies. Who doesn't want to dip into that office buzz, have access to meeting rooms, communal spaces? This village like existence, also provides the perfect space to share expertise and ideas with a broad range of individuals and companies, the perfect place to network.
AND – this is why Hlevel Architecture has been utilizing these spaces since 2016.
Principal Architect Brandt Henning working at Venture X in Naples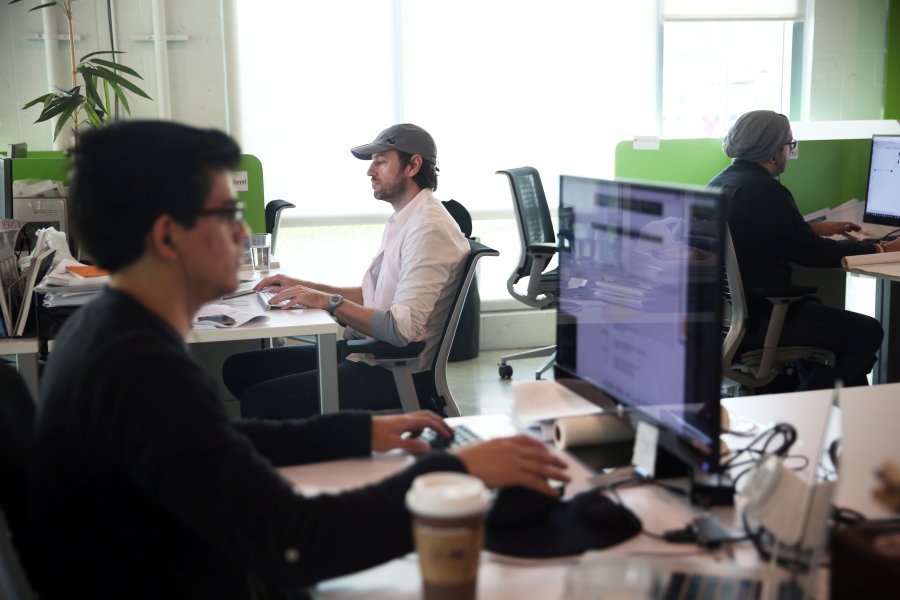 Why we like working in a shared space:
Greater efficiency through shared resources.
Ability to adjust staffing levels to accommodate changes in demand.
Create a motivating, professional atmosphere that drives success.
Availability of conference rooms and event spaces as needed.
But, what we value most is feeling part of a like minded "tribe" and being able to network with interesting people, who don't necessarily have anything to do with architecture.
In an article called "Why People Thrive in Co-working Spaces" (https://hbr.org/search?term=lyndon+garrett).
The authors explain that connections with others are a big reason why people pay to work in a communal space. Actively, choosing it over working from home for free or renting a office.
Each co-working space has its own vibe. Where the managers of each space can go to great lengths to cultivate a unique experience, striving to meet the needs of their respective members.  More importantly though, is that socializing isn't compulsory or forced. People can choose when and how to interact with others. Individuals are far more likely to enjoy discussions over coffee in the café because they chose to go the café for that very reason. Yet, when they want to be left alone elsewhere in the building, they can be and that is a  choice these co sharing spaces provide.
As businesses look for greater flexibility in their working day and environment, more and more cosmopolitan hubs and cities are now striving to provide accessible co sharing work spaces.
Meeting the needs perfectly with today's generational move to fluidity and flexibility at work.