The Premise that is "WORKING FROM HOME"
Once thought of as the secret domain of laziness. A place where people "work from home" and then do an hour, flip on the TV, take a shower, put a wash on, before they meet friends for early drinks. Yeah, yeah working from home your employer will say, I know your game, bit of work and a lot of play.
However, as a work force and social beings we are moving towards being increasingly online, whether it be to chat with friends, share our lives with family or excessively promoting ourselves and our businesses. Basically, with our personal arsenal of mobile phones, tablets, laptops, in home Alexa systems and computers, we are accessible, 24Hrs a day. Therefore, the ability to have a flexible working life is becoming acceptable in the modern workforce and with that the introduction of logging on at home.
Current Situation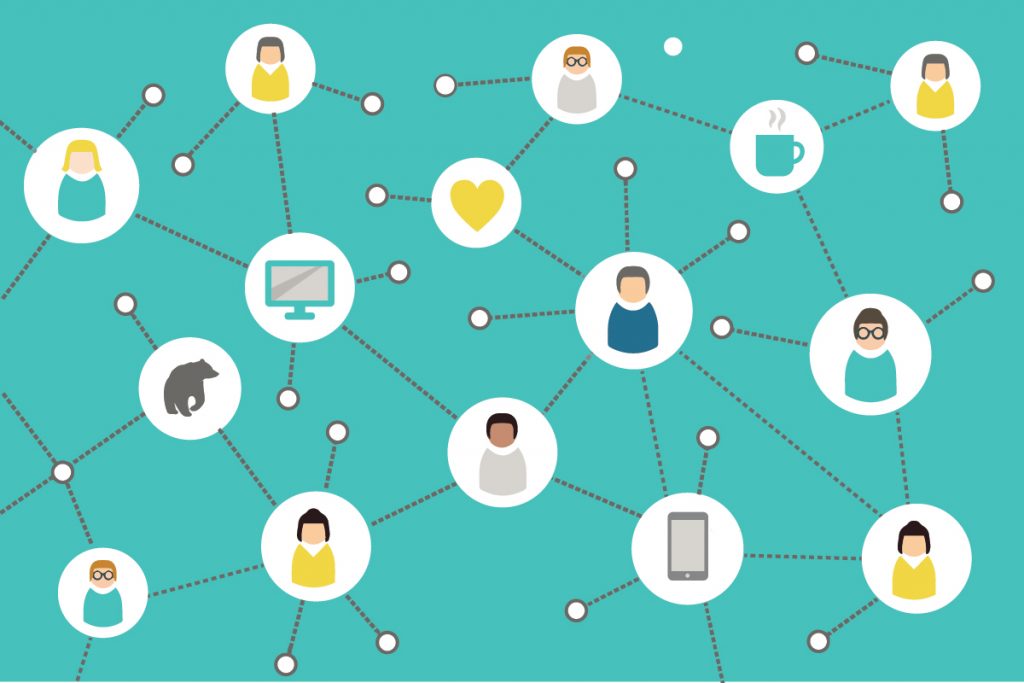 The reality of Coronavirus is upon us. The actuality of it coming to a town near you, inevitable. It is already here and there is now a call for 900 million people to "stay at home". Forcing us as a community to quickly, start working through and implementing the "working from home" revolution.
Working Through
But, how can this form of "working" be implemented in the home? Your home? What are the pros? What are the cons? Can you be just as productive? Even more productive? With the enforced working from home situation that has arrived with the pandemic, we can certainly begin to figure out all of these questions and it could result in a happier, healthier, flexible, more productive and accessible workforce. Maybe?
Digging Out the Facts
Over the last week I have read numerous articles on social distancing and how this relates to working from the comfort of your own home. Because, as you can imagine it is vital for businesses to continue as best they can without having to be in a room with a client. There currently is a deluge of information out there and from eveything I have read, most are applicable to all industries and some are specific to a individual business type. So much so, that one can easily drown in or rapidly get overwhelmed by it. Remember, it is vital in these pandemic times to keep anxiety low. So, attempt a little yoga and meditation at home.
Yoga anyone?
There are many local studios that are offering online classes, such as Yoga Lab (offering $30 for 30 days on initial registration)
Or you will find a wealth of options on You Tube, just pick one and off you go – now breathe.
Lets meditate?
So many services offer this, but we particularly love the apps
Headspace – which you can try for free.
What do you need?
A clear space, a computer, a brain. Most of us have all three. I would hope 🙂
I am particularly in love with the above space for some inspiration.
Make the area bright, free from clutter and maybe add a couple of plants for some biophilic benefits.
Ensure you are following CDC (Centers for Disease control and prevention) guidelines to keep yourselves, your family and clients safe.
Working Routine
You will now need to set up a routine. Construct your day, into a working day.
Get up / get dressed (for work) / eat breakfast and sit down by a certain time. Say you set your day to the classic 9am – 5pm and make sure you log off when you break for lunch and at the end of the day.
Remember, POSITIVITY IS KEY – this will not be forever, unless you love working from home.
Remote Working
We have our space set up, but you are still not open for business. As an individual / team / company, what remote tools can you use to get yourselves up, running and online.
There are a wealth of online tools to help your business, one such online tool we use is Later; which aids in planning your social media, a fabulous marketing tool. In addition as a company, they have sent out a great infographic which I would love to share, to aid you in your working from home revolution.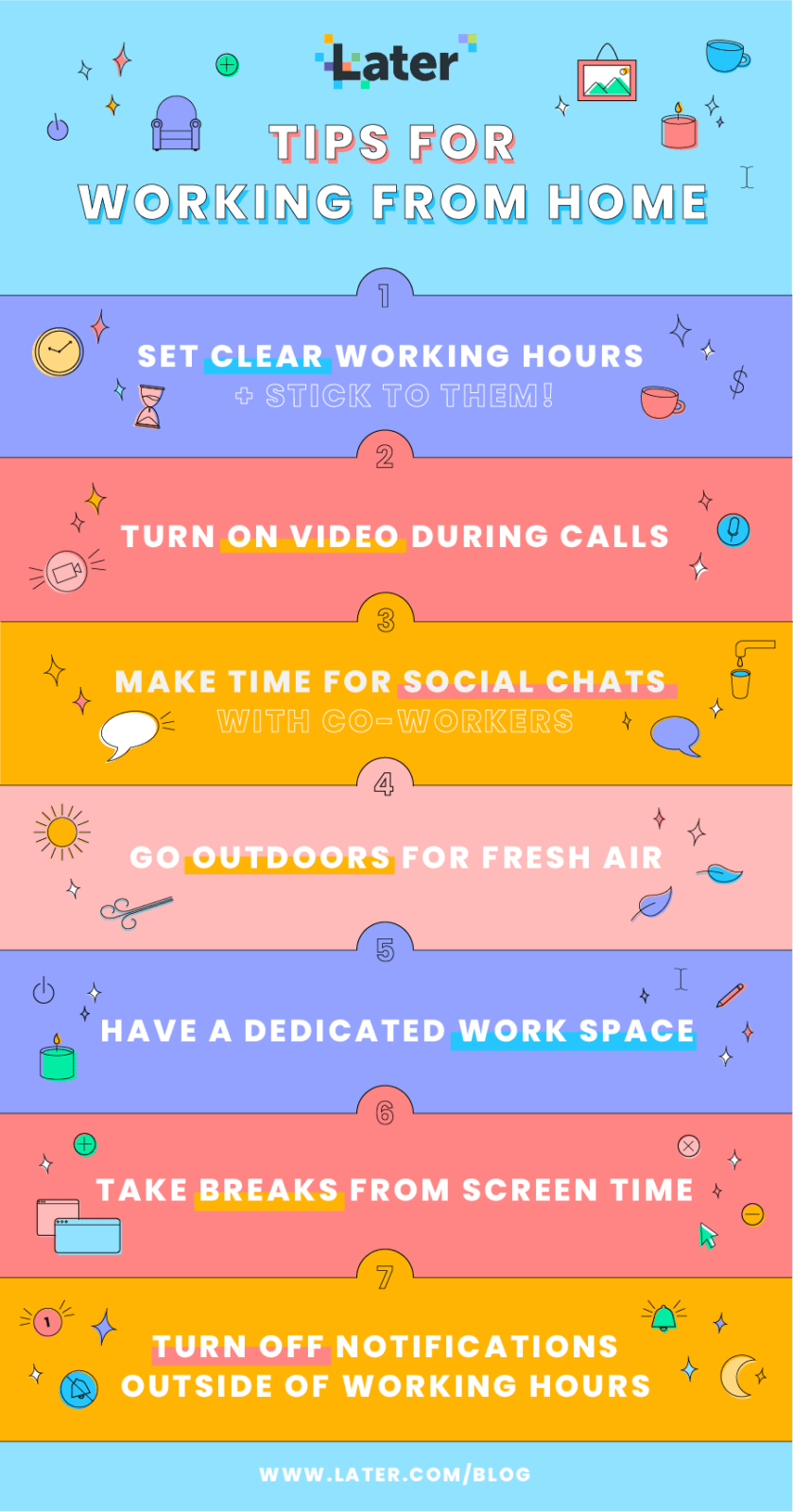 Online Apps that can help.
There are so many great resources and articles, across a wealth of platforms that can advise on applications that can aid in remote working. Which can provide a great platform for your team to be able to communicate, while working from home.
Here is a fabulous list I found, again on the Later Blog
Please know this is by no means a definitive or exhaustive list. But, a really good start for setting up your team / business at home.
Slack – internal messaging – Used at Hlevel Architecture
Zoom – video conferencing – being used by everyone it seems
Asana – assigning tasks and tracking progress
JIRA – project tracking
Google Suite: – Docs, Sheets, and Slides for collaborating on and sharing documents, spreadsheets, and slides
Loom – screen recordings with voiceovers
Later – social media planning and scheduling
Jackbox – remote social games
Notion – shared documentation
Finding the right tools to help your team successfully communicate while working from home can be a huge step in the right direction. But, it doesn't stop there. Because, you must remember to ……
Look After YOURSELF at home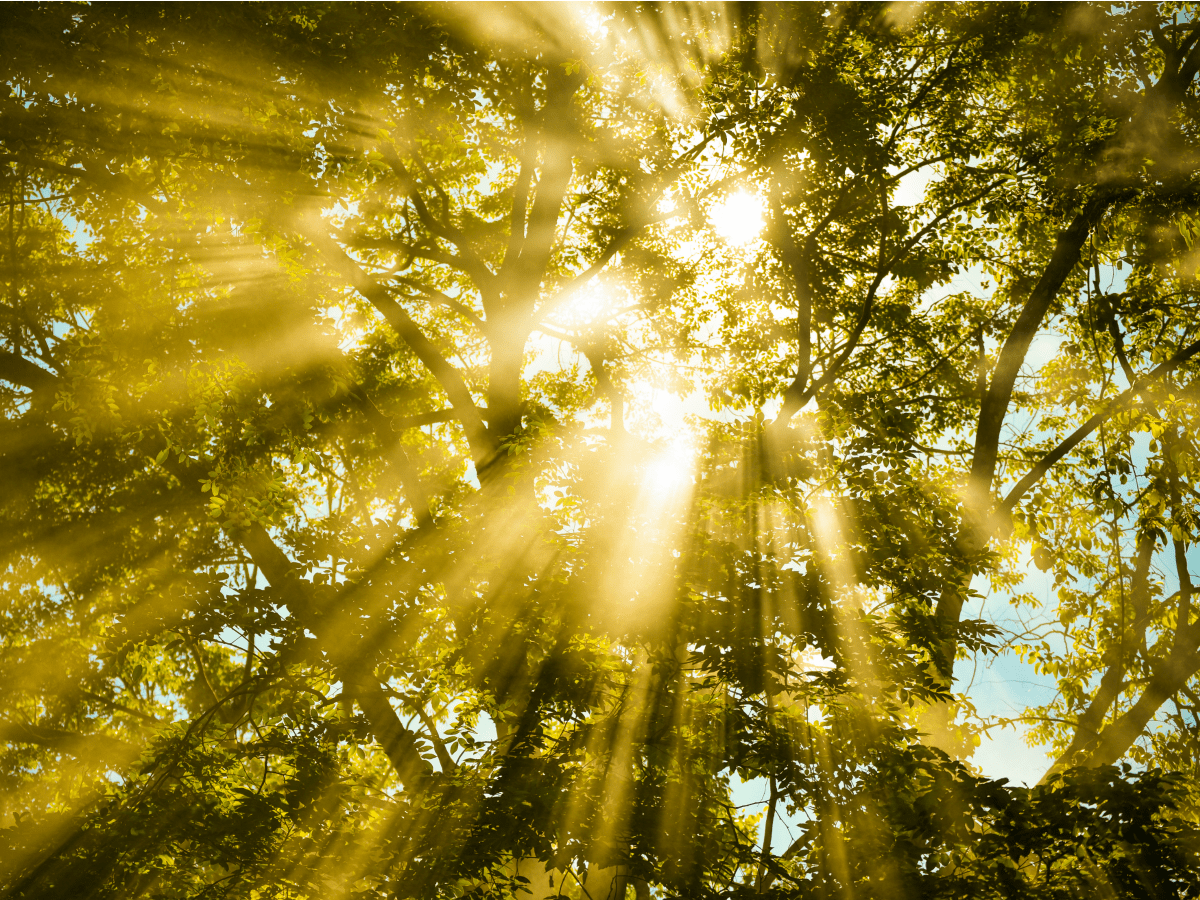 Key point – YOU are a big part of this business, so please make sure you are taking care of yourself. Ensuring you are recognizing your own physical and mental needs.
Local communities have introduced a great many tools to achieve this, with online exercise classes, check out your local YMCA for example, who now have VIRTUAL YMCA.
There are numerous online resources to listen to books (Audible), learn to draw, learn Spanish (Duolingo) as well as magazines with lists and resource guides on books to read, shows to watch, new skills to learn.
There are some great ideas here in the Gulfshore Life Magazine resources guide
GO OUTSIDE, be alone and take in some fresh air every day. This is very achievable, even when social distancing, with solitary running (Maybe join a virtual 5K), cycling, kayaking and walking. Just to mention a few.
If you cannot get out excessively during the day – I particularly love this from paradise.com, who have live streams from beaches in our local area. They are empty, but are really quite relaxing to watch. Just pick a beach, lie back in the garden and de-stress.
Preferably, with a long, cool, cocktail. I hear the "Quarantini" is particularly yummy, check out the recipe here
Stay Calm and Log on
Well, we hope from us all here at Hlevel, that this has given you some ideas and resources to use while you work from home. Please remember, you have very little control of the situation. But you can take control of yourself, keep well, keep distance, relax with your family, stay social on line and face this time with an expanse of positive and creative energy. We are here to take any calls and are remotely set up to liaise with clients and conduct business as usual.