Holiday season is almost upon us and Hlevel Architecture has gone in with a big festive BANG. Last week the team were the proud recipients of three, shiny, American Institute of Architecture (AIA) SWFL awards. http://www.aiaflasw.org/ This is something we will definitely be "thankful for" over this year's Thanksgiving turkey.
It is a huge honor for us when we receive these accolades. Overwhelmed by the support and recognition, we receive from our peers; fellow Florida architects. There truly is great talent in this region, which is noticeable from all the fantastic and beautiful buildings being created in the area. It is with the encouragement of fellow architects, our passion for design and the inspiration of a client's vision for a new home, commercial space or renovation, that makes us excited to continue creating.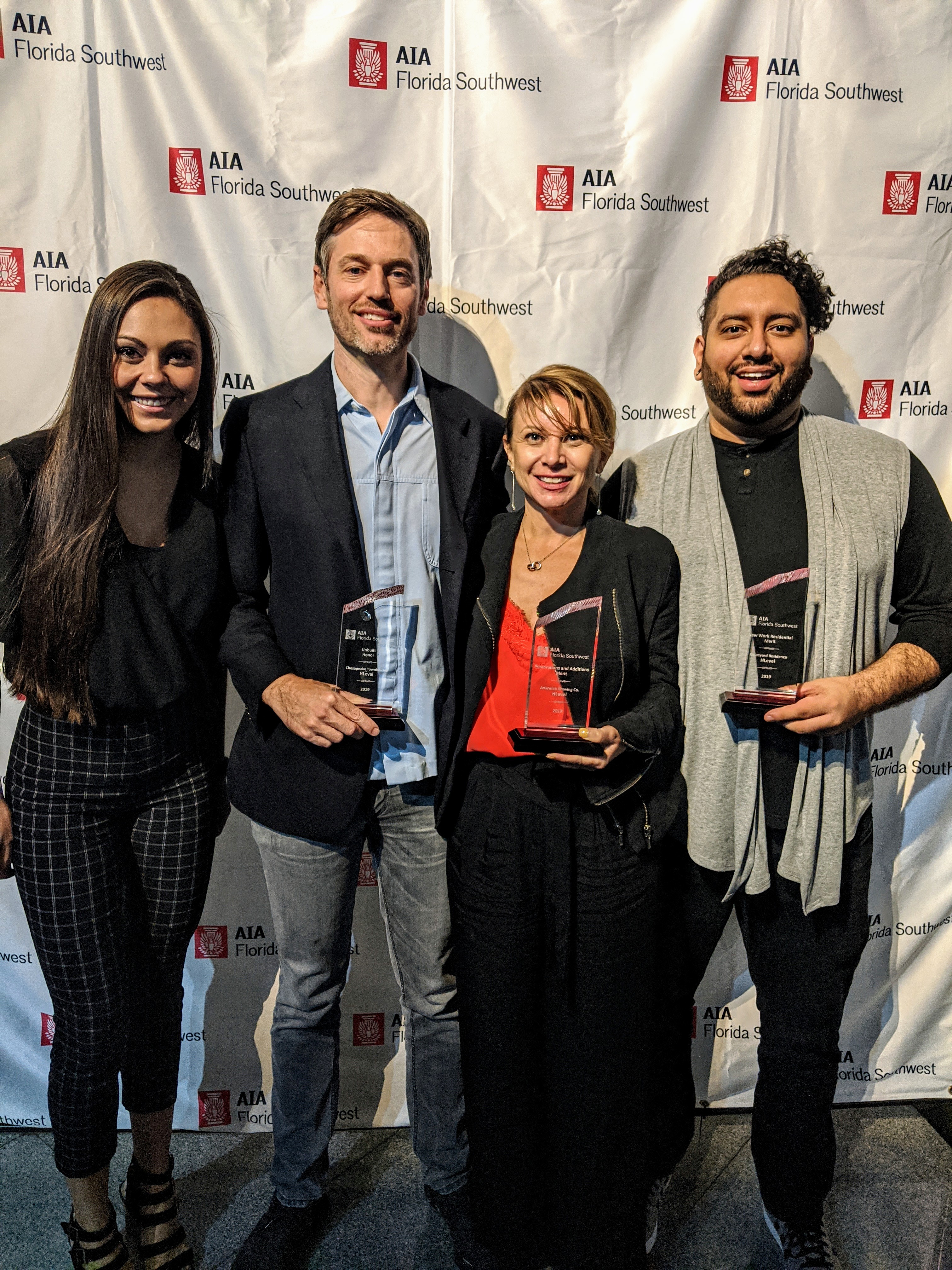 Awarded Projects
The work submitted, is a true reflection of our passion and architectural style. Channeling our desire to synchronize the natural landscape with the needs of the designed home, work, commercial and community space. Blurring boundaries, merging natural and man made materials into a singular beautiful, uncomplicated and functional design.
The winning projects were:-
1-New Work Residential Merit Award – Courtyard House, in collaboration with Digsau Architects
A private residence created to provide an inspiring live/work environment, that can grow to accommodate large gatherings of family and friends. The home consists of an abstract, perforated site wall shared by three enclosed structures. Indoor spaces merge into the courtyards, with walls that are imagined as abstract projection surfaces for the tall pine trees of the surrounding forest.
2- New Work Residential Honor Award – Chesapeake Townhouse – Naples, FL
Naples, Florida, and its recent residential construction boom has seen land and construction prices increase dramatically over the past 3 years. Therefore, the market has become saturated with similar products that are overpriced, lack character and vision. The project is set on an 0.59 acre canal site with direct access to Naples Bay. To solve major design challenges (maximum lot coverage of 30%, views, building height of 30') a beautifully landscaped/hardscape auto courtyard, providing access to private 2 car garages was created, with a staggered/stepped design to maximize the building footprint.
3-New Work Restorations and Additions Merit Award – Ankrolab Brewery – Naples, FL
Commissioned by a local brew master searching to make his mark on the local market. The project is located on Bayshore Drive, a community seeing major restoration, in the form of new diverse businesses. Ankrolab Brewing Company will be right in the heart of the community. The existing lot had been home to a small auto repair shop. The primary challenge was re purposing the metal framed warehouse, to adequately support the heavy load of beer production the client envisioned, while still providing a large enough tasting room for the up and coming neighborhood.

And there we have it for another award season. As 2019 slowly draws to a close, we look forward to future projects, even greater challenges and creating sustainable living choices. We are thrilled that you are part of our journey, so thank you.
If you have any questions please contact the team at [email protected]