THE CAPE ROMANO DOMES
Everyone local to Southwest Florida knows of the Cape Romano Dome Home. The famous dome ruins sat alien-like in the water, about 300 ft (90 m) from the coast to the island, and had attracted many visitors and tourists by boat. While they suffered the force of nature over the years, Hurricane Ian on September 28, 2022, swept them away for good.
ORIGINS AND HISTORY OF THE DOMES
Interesting tales about its origins can be found online (extraterrestrials anybody?), the true story however is that retired oil producer Bob Lee on Cape Romano built them built in 1982 as an off-grid vacation home. Originally, it was quite a walk from the house to the gulf. Since then, rising sea levels, land erosion, and several hurricanes washed away the other island homes while submerging the structure, making it inhabitable for years. Two out of the six domes collapsed during Hurricane Irma in 2017 and turned the house into a home for sea creatures and a perch for seagulls and pelicans.
Now, the domes are gone for good, and with them a historic piece of Southwest Florida. As sad as the recent events caused by Hurricane Ian have been to our region, there are some lessons on resilience, sustainability, and future design approaches that can be learned from the memory the domes left us.
A great article with more photos can be found HERE.

LESSONS ON DESIGNING FOR RESILIENCE
The Cape Romano home was built using the sand on the island to make the concrete. The abode was completely self-sustaining and had all the amenities of a luxury home. Solar panels provided the power for a modern kitchen, satellite television, and a hot tub on the deck. The spherical structures were designed to withstand high winds. The roofline collected rainwater, which was then filtered and used for household use.
It's amazing to think that over 60 years ago, innovative designs like the dome home existed. We have come a long way in innovative building strategies since then. The progress in bringing truly sustainable practices into the mainstream has been slow, though. Instead of building with nature in mind, we keep constructing against it, like we were able to control it that way.
Ultimately, the Cape Romano domes' downfall was not its unique design. The structure was not designed to adapt to rising sea levels as well as storm surges sustained over the years. All that remains now is a memory of the beloved domes, but maybe also a lesson on how we need to rethink living along the coastline for a sustainable future.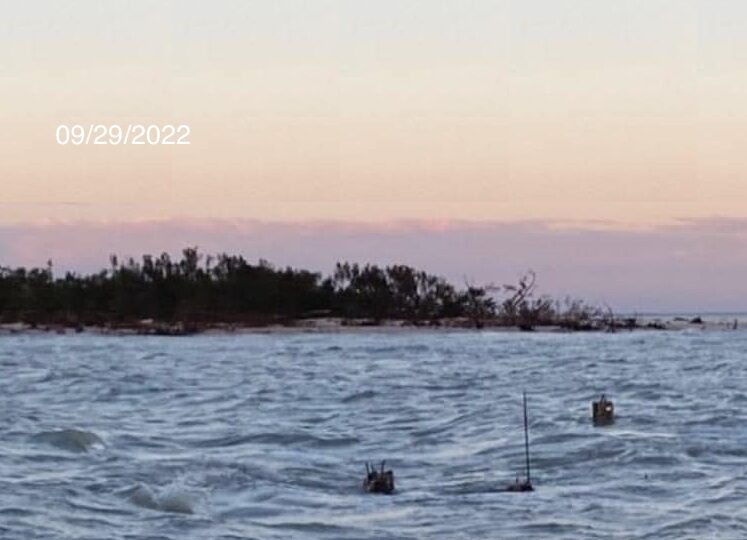 RELATED ARTICLE:
TO LEARN MORE ABOUT DESIGNING FOR RESILIENCY AND FLORIDA'S RISING SEA LEVELS
https://sealevelrise.org/states/florida/
https://www.fema.gov/sites/default/files/documents/fema_protect-your-property-storm-surge.pdf